By Chris Dortch, Staff Writer
last updated 08/17/08 06:46 PM
Lookout Mountain's Schreiner - Markley Win CDGA Four-Ball Over Council Fire's Mathis - Smith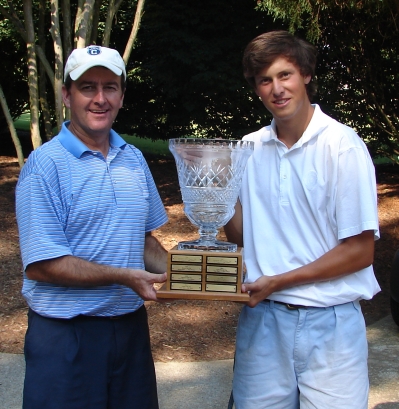 2008 Champions
Lookout Mountain's
Tom Schreiner (left) and Max Markley
with Michael C. Jenkins Trophy
In his role as golf coach at Covenant College, Tom Schreiner has to have a keen eye for talent and the power of persuasion to be an effective recruiter.
Thus, it was no surprise when Schreiner came up with a good partner for the Chattanooga District Golf Association's Four-Ball Match Play tournament. Schreiner plays most of his golf these days at Lookout Mountain, where he couldn't help but notice the play of Max Markley, a junior on McCallie's golf team.
If Schreiner does as well stocking his Covenant team as he did in drafting Markley to his Four-Ball team, the Scots will be well stocked with talent in the years to come. In an epic-length tournament that meandered along for the better part of a month, young Markley teamed with the veteran Schreiner for victory after victory.
Two of those came on Sunday at Council Fire, the last one a 3 and 1 vanquishing of Matt Mathis and Thomas Smith for the championship.
The match, as is so often the case at Council Fire, was won on the back nine, and Markley led the charge. Mathis and Smith took a 1-up lead onto the back nine, thanks mainly to Smith's birdie barrage; he made four on the front, including one at No. 8 that gave his team that slim advantage.
Markley erased the deficit quickly at No. 10, a hole he obviously likes. In his team's 4 and 3 victory over Derek Rende and Mike Craig in a morning semifinal match, he birdied 10 after hitting his approach to a foot.
In the afternoon, Markley struck a 153-yard 9-iron to about five feet below the hole and made the putt. When Mathis missed a short birdie putt of his own, the match was even.
Both teams birdied No. 11 and parred No. 12, allowing Schreiner and Markley to grab some momentum at the par-5 13th. After Mathis drove his tee shot into the water, Smith found the fairway and faced a 260-yard second shot. He took out a 3-wood and planned to hit the ball to the right front of the green, two putt and walk away with a birdie.
It didn't quite turn out that way.
"I got a little too quick with it," Smith said. "I knew it was going to be close."
Close as in close to going in the water. The ball did dribble into the drink, and neither Smith nor Mathis could save par. They conceded a birdie to Schreiner and were 1 down heading into the stretch run.
After a couple of pars at the par-3 14th, the match turned for good at the 15th. Once again, Markley was the one who did the damage. Facing a 20-foot putt with a decent little right to left break, Markley just wanted to two-putt. Or at least coach Schreiner wanted him to.
But when Markley stood over the putt, a different thought occurred.
"He told me to just cozy it up there and two putt," Markley said. "But as I stood over it, I just knew I would make the putt. I knew it was in."
Sure enough, the putt dropped, and Schreiner and Markley were suddenly 2-up. The match ended when Smith and Mathis, having narrowly missed birdie putts at the par-3 17th, conceded a birdie putt to Schreiner.
Afterward, Schreiner talked about his good fortune recruiting. Markley, it seems, wasn't his first choice.
"I had asked his dad [Jim] to play," Schreiner said, laughing. "But he turned me down. So I said, 'Do you mind if I ask Max?' He said sure, that it would be good experience for him."
The tournament gave Schreiner a chance to cast his recruiter's eye on his partner, and he came away impressed enough to know there was no chance Markley would ever tee it up for Covenant, an NAIA school.
"He's a Division I player," Schreiner said. "I'm telling you, this tournament is his coming out party. People might not have known how good he is. He's young and he's still got a lot to learn, but he can really, really hit the ball."
###