By Chris Dortch, Staff Writer
last updated 07/13/08 10:57 PM
McMasters Wins CCC Invitational by 3
CCC Invitational Z Golf Scoreboard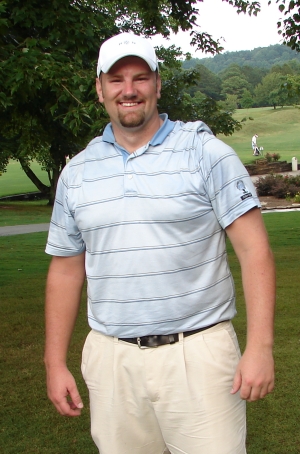 2008 CCC Invitational Champion
Justin McMasters
CLEVELAND, Tenn.—It took Justin McMasters all of two professional tournaments to realize there were better ways he could be spending his time.
That was in 2006, and since then, McMasters, a 24-year-old former Lee University golfer, has forged out a career in the business world. That left little time for golf, but a few months ago, that old competitive urge starting welling up inside him, and he applied to regain his amateur status.
It didn't take him long to take advantage.
McMasters found out just last Wednesday that he was once again free to play in amateur events. And by Sunday, he was hoisting a trophy after winning the Cleveland Invitational.
McMasters' game was on full display in the 36-hole tournament at Cleveland Country Club.
"I'm a very streaky putter," McMasters said. "My buddies will tell you, when my putter gets hot, I can play with anybody. When it's not, I'm in trouble."
McMasters' putter was blazing on Saturday, when he turned in a 6-under-par 66 to take a two-shot lead over Matt Robertson. On Sunday, it had cooled off considerably. But despite three three-putts, McMasters crafted a final-round 72 that was good enough for a three-shot victory over Lee University golf coach John Maupin, who followed an opening 69 with a 72 on Sunday.
This really wasn't the Lee Alumni Association Tournament, but it seemed like it; behind Maupin were a couple of more old Flames at 2-under, Robertson and Ryan Hulton.
McMasters had to overcome a slow start to post his first win since a regional championship during his high school days at Chattanooga Central. He bogeyed the first two holes, hitting his second shot out of bounds at the par-5 1st hole and three-putting the par-4 second. But he regrouped with four straight pars and regained those lost two strokes with birdies at No. 7 and 9.
With the back nine to play, Maupin, who birdied No. 10 to get to 4-under, and Robertson, who also birdied 10 to move to 5-under, still had a chance to overtake McMasters, who was unsure of himself on the greens. Maupin couldn't make enough birdies to do the job, and Robertson began to slowly drift back down the leaderboard, starting with a bogey at No. 11. A double-bogey at the par-3 13th pretty much did him in, dropping him to 2-under for the tournament and five shots behind McMasters, who birdied No. 12 to get to 7-under.
Save for a slight misstep at No. 15, when he three-putted from about 15 feet, McMasters held it in the road down the stretch. At No. 18, a short par-4, he could have hit anything into the fairway and coasted home. Not McMasters. He pulled out his driver and gave it a bash, nearly driving the green. The hole played at 345 yards.
"There's no safe in my game," McMasters said. "I hit driver on every hole and shoot at every pin. I don't hold anything back."
That approach probably wouldn't have held up too well on the play-for-pay circuit, but then again, McMasters always knew that. After his short-lived pro career, he came back to Chattanooga, got married, found a job in the telecom consulting business and limited his golf to his off days. "A real weekend warrior," he said.
Regaining his amateur status was the first step toward teeing up in something that offered a trophy at the end of the day. The Cleveland Invitational, played on a course he knows so well, was a good starting point.
"If I'd have shot 80-75, I might not want to play again," McMasters said. "But winning, this will give me some confidence."
McMasters, who turns 25 in a month, will be eligible for mid-amateur tournaments, and wants to play in the Tennessee Mid-Am Oct. 8-10 at The Ridges near Johnson City. And when the Tennessee Amateur is played within an easy drive (unlike this year, when it'll be played at Ridgeway Country Club in Memphis), he'd love to take part.
"I'm just competitive," McMasters said. "This [playing at Cleveland] was all about just wanting to play tournament golf again. It's a lot of fun."
###
CCC Invitational Z Golf Scoreboard

Top of Page