By Chris Dortch, Staff Writer
last updated 06/22/08 08:40 PM
Lawson Closes With 7-under 29 to Win by 2 Over Lewis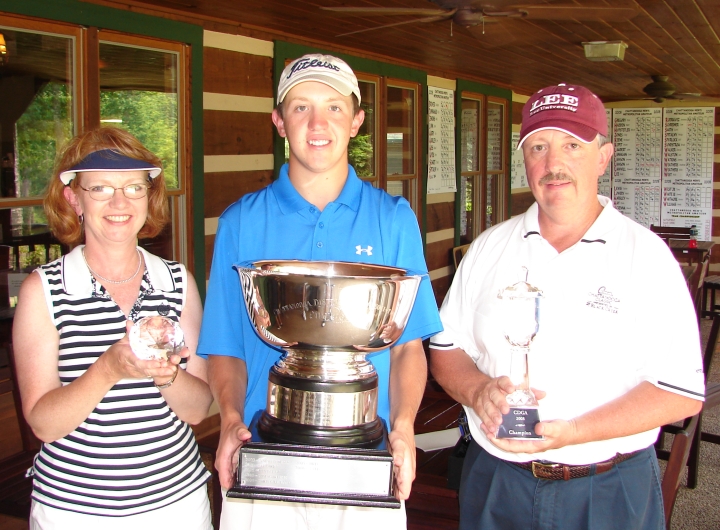 2008 Metro Champion Josh Lawson
with parents Joe and Kathy Lawson
Midway through last summer, Josh Lawson had endured all the bouts of crummy putting he could stand. So he took some advice his father, Joe, had been giving him for a long time.
"I'd been putting really bad with a regular-length putter," said Lawson, a senior on Lee University's golf team. "Dad had been bugging me for years to go to a longer putter. So I finally thought, as a last resort, what have I got to lose?"
Luckily for Lawson, his dad's an amateur club maker. So all this great experiment cost was $45. Joe Lawson ordered the parts—including a 45-inch shaft— from Golfsmith, put the new weapon together and turned his son loose with it. The dividends were remarkably quick.
"Right away with the medium-length putts," Lawson said. "And a lot better with the shorter ones."
When Lawson threw a little 65 at the field in a college tournament last fall, he knew the belly putter was the right wand for him. Putting was no longer, in his father's words, Lawson's "Achilles heel."
He proved that on Sunday in the Chattanooga Men's Metro final at the Bear Trace at Harrison Bay. Trailing two-time defending Metro champ Taylor Lewis by two strokes heading into the final nine holes, Lawson went bonkers. He made everything in sight on the greens, shot a 7-under par 29, and, with a closing 6-under 66, finished at 10 under for the tournament, two shots ahead of Lewis, who tried as hard as he could to win his third straight Metro with a 67.
"If you'd have given me a 67 this morning before we teed off, I'd have taken that," Lewis said. "But as it turned out, that wasn't good enough. That's golf. But give Josh credit. He played great. I didn't lose this tournament. Josh won it."
Despite a pitch in for eagle at the temporarily drive-able par-4 10th hole, Lawson, the 36-hole leader, still thought his chances to overtake Lewis were slim after shooting a 37 on his front nine. That eagle took him to five under par for the tournament, but Lewis, who also eagled 10 after his tee ball came to rest about two feet from the hole, was seven under.
Worse, when Taylor smashed his second shot to just off the par-5 12th green and Lawson hit his second into the front bunker, Lawson thought he was about to go three shots down, his chances for winning all but dashed.
"I told my mom [who went along for the ride and kept score] that if I didn't make birdie [at 12], it's probably over," Lawson said.
Lawson blasted out to about 10 feet and Lewis's chip drifted about eight feet behind the hole. When Lawson drained his putt for birdie and Lewis missed, the battle was on, Lawson having moved to six under to trail by a shot.
Lewis' lead evaporated on the par-4 13th when Lawson nestled his approach to five feet and made another putt for birdie.
Both players parred the par-3 14th and birdied the par-4 15th, to stay tied and set up an entertaining final three holes.
Any drama seemed over before it really began when Lawson lashed his tee shot into the left woods at No. 16. The ball could have gone anywhere, but Lawson was pleasantly surprised when he tracked it down.
"I was able to just get into the woods and get a club on the ball," Lawson said. "So I gripped a 6-iron down to the steel and was able to get it out of there."
The ball advanced 20 yards but was still in tall grass and partially blocked by a tree. The shot called for a big hook, and Lawson dialed it up perfectly, the ball sailing wide left onto the green about 30 feet from the pin.
Meanwhile, Lewis was able to birdie the hole to get to 9-under. Had Lawson two putted his momentum would have been gone. But with a deft pass of his homemade flat stick, he drained that lengthy par putt to stay just one shot behind Lewis.
Lewis' bid for Chattanooga amateur golf history ended on the 17th hole. Trying to become the first player since Ed Brantly dominated the tournament from 1961 to 1964 to win at least three straight Metros, Lewis made his only major miscue of the final day, hooking his tee shot left into the trees.
Lewis found his ball, but unlike Lawson at 16, he was forced to take an unplayable lie. That led to a bogey, and when Lawson made an eight-foot birdie putt, he suddenly led at 9-under par.
Lawson putt the capper on a great back nine and a great tournament at No. 18, when that red-hot putter struck again. He made a 15-footer for yet another birdie and a back-nine 29, his lowest nine-hole score ever.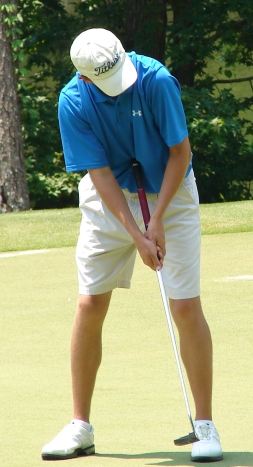 Lawson makes 15-foot birdie putt
on #18 for back-nine 29
"I'd had a chance to do that [in Saturday's round]," said Lawson, who teamed with fellow Metro contestant and college golfer Paul Apyan to help Hixson High School win the 2004 Tennessee Class A-AA championship. "I was six under going into the final hole but three-putted the 18th.
"This feels really good, because I won the tournament. Taylor played great—you don't expect to lose if you shoot 67 on the final day—but I was able to come back and win it. He didn't hand it to me."
Rick Donnahoo used the 18th hole to his advantage in winning the Senior Division on Saturday, saving par to finish 36 holes at 150, one shot ahead of reigning senior champion Mike Jenkins and Neil Spitalny.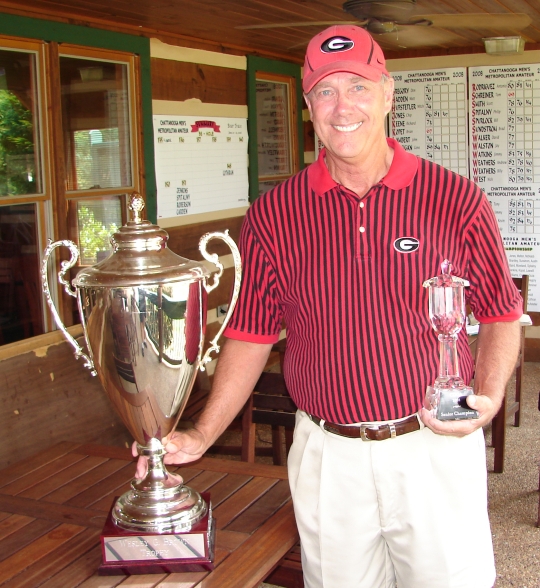 2008 Senior Metro Champion
Rick Donnahoo
###