By Stan Crawley, Staff Writer
last updated 03/15/06 04:56 PM
Corey Wins Fourth Metro Championship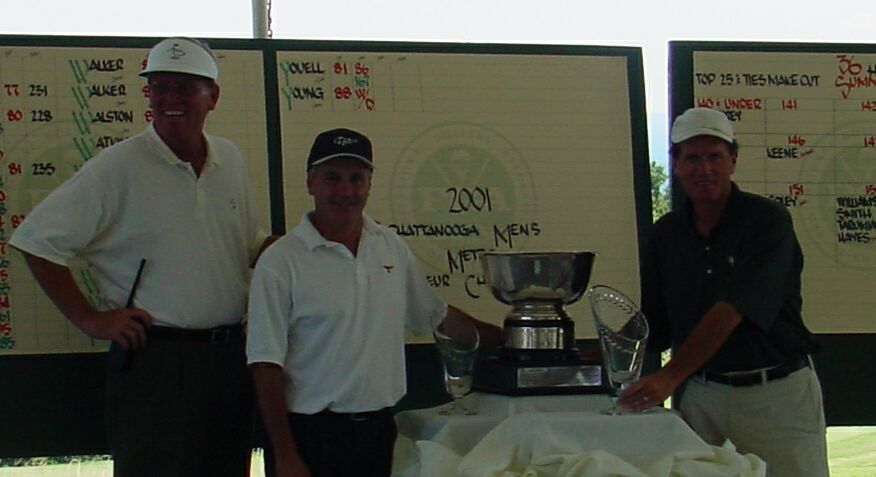 Lookout Mountain Golf Pro Brett Mullin,
Tournament Director (and Runner-up) Richard Keene, and Champion Pat Corey
In winning his fourth Chattanooga Men's Metro Championship, Pat Corey was consistent.
The 43-year-old Corey held a 6-stroke lead after Friday's round, a 6-stroke lead after Saturday's round and a 6-stroke lead following Sunday's championship round..
"Yeah, a win is a win,'' Corey said. "It feels good to win again. But I just wish I could have played a little better. I've got to work on my golf swing.''
Corey finished at 213 with his Sunday round of 5-over 75 while Richard Keene was second at 219, Kevin Law third at 220 and Jimmy Chapin fourth at 222. Aon Miller rounded out the top five at 224.
Corey had bogeys on Nos. 2, 4, 8, 11 and a double-bogey on No. 16 Sunday. His only birdie came at No. 12 when he made a putt that could have led to disaster if it had not landed in the hole.
"That birdie putt at 12 really helped,'' Corey said. "It would have gone 5-or-6 feet past, if not maybe 10. I don't know. It did help calm my nerves to make it.''
Corey was displeased with his ball striking Sunday.
"And I hit it great on the practice tee,'' he said. "Maybe that was a bad omen. I was pulling my drives. It was a struggle. And I didn't play smart. This is such a mental game.''
Despite the agony of a 75, Corey was pleased to win his fourth Metro championship.
"It feels good to have your name mentioned with a lot of the former champions,'' he said. "I just wish I could have played better. I'm just glad everybody else played as bad as I did.''

Runnner-up Richard Keene
putts for birdie on #17


Champion Pat Corey taps in final putt while Richard Keene and Kevin Law look on
DISAPPOINTING DAY FOR LAW: Kevin Law just couldn't get his game going Sunday. He finished with a 76, but had six bogeys and no birdies.
"A little bit of everything was wrong today,'' Law said. "I only had a couple of birdie opportunities. It was one of those days.''
Law will play with his father, Ronnie Law, in the Rossville Kiwanis Four-Ball and the Brainerd Invitational.
"That will be it for this summer,'' he said. "It's been a fun summer and could have been better if not for a few shots here and there and that disqualification at Bear Trace.''
WILLIAMS READY FOR QUALIFYING: After being sick on Friday and bending over most of the day, Patrick Williams developed some minor back problems.
"It made the entire tournament frustrating,'' Williams said. "I just didn't hit it good. I did make a lot of good putts, but just couldn't get the ball in the fairways or on the greens.''
Williams, who had a 65 at Valleybrook last week, will participate in the State Amateur Qualifying on July 23 at Black Creek.
GOING, GOING GONE: After missing a 3-footer for birdie on No. 17 Sunday, Matt Mathis decided his putter had to go. He broke it on No. 18, but it took two tries.
"Missing that 3-footer was the last straw,'' Mathis said. "I was determined to snap it on 18. I shouldn't have, but I had had enough.''
Mathis already had a new putter ordered—a Newport 2 Pure Platinum.
CLOSE BUT NO CIGAR: Jimmy Chapin almost had a hole-in-one Sunday on No. 16, the hole aced by Mark Guhne on Saturday. Chapin's ball ended up 10 inches from the hole and he finished with a 2-over 72.
"I really had a good round today,'' Chapin said. "This is a tough course.''
NEVER SAY NEVER: Larry McGill made a promise after Sunday's round of 82.
"I'm going to play this course one more time and that's this summer in the 4-Ball,'' he said. "Then, I'm never playing it again. That's a promise.''
MILLER'S OVER PAR WEEKEND: Mike Miller, ranked No. 2 locally, came into the Metro at 25-under for tournaments this summer. He was 20-over in the Metro, including Sunday's 81.
"I'm ready for the Brainerd Invitational now,'' he said.
BIG WEEKEND FOR GUHNE: Mark Guhne shot a 34 on the front side Sunday, but had five three-putts on the back to finish at 7-over 77. Still, he enjoyed the weekend. And why not?
On Friday, Guhne and his Valleybrook buddies won the team championship. And on Saturday, Guhne made his second ace on No. 16.
"The team thing was far and away the biggest thing of the weekend,'' he said. "I was so excited. To win with three of your best buddies, that made it fantastic.''
The other members of the Valleybrook team were Don Gregory, Bill Harris and David McKenna.
ONE RED NUMBER: Only one golfer was under par for a round in the three-day event—Corey shot a 5-under 65 on Friday.
"That's a compliment to the course,'' said course superintendent Mark Stovall. "This is a masterpiece design.''
###
Top of Page