By Chris Dortch, Staff Writer
last updated 06/01/08 09:00 PM
Rende Repeats as Red Bud Champion
Red Bud Invitational Z Golf Scoreboard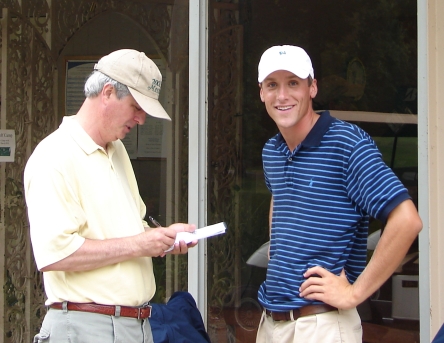 2008 Red Bud Champion Derek Rende
talks with www.ifyoulikegolf.com
staff writer Chris Dortch
about his victory
The Red Bud Invitational pretty much resembled a UT-Chattanooga qualifying round at Valleybrook on Sunday. And with Tripp Harris, Derek Rende and J.T. Clendenin all in contention, it was inevitable the tournament would come down to a good friend beating a good friend.
Sure enough, that's exactly what happened. Rende's two-putt par at No. 1, the first playoff hole, defeated Harris, who three-putted for bogey. The victory was Rende's second straight in the Red Bud and sends him off on an aggressive national amateur schedule with an extra little shot of confidence.
"Anytime you win, it's a good thing," Rende said. "It's good to learn how to win, no matter what level of golf you're playing."
Alas, winning the Red Bud meant beating Harris, Rende's closest friend.
"Yeah, it's tough to play against your best friend," Rende said. "And I hated the way it turned out. Once I missed my birdie putt [at No. 1] and he missed his, I was just hoping he'd make his second putt and we'd go on to the next hole."
Harris' putter proved to be his undoing, for the tournament was his to lose after consecutive birdies at No. 10 and 11 pushed him to 4-under for the tournament. At that point, Clendenin, who held the lead at 2-under for a time, had dealt himself a serious setback by hitting his second shot at the par-5 11th out of bounds and taking a double-bogey. He eventually settled for third place.
Though Rende birdied 11, Harris seemed on the verge of leaving his teammates in his dust. After pars at Nos. 12-14, he took a three-shot lead into the home stretch.
From that seemingly cozy position, Harris came back to the field, thanks to a balky putter. He missed the green from about 140 yards at No. 15 and couldn't save par, missing about a five footer. At the par-3 16th, he staked his tee shot to about three feet, but missed that putt. The final blow was a three-putt bogey at the par-5 17th that left at 1-under-par 70 for the day and 2-under for the tournament.
Rende was also at 2-under with the reachable 17th to play, but when he parred that hole and No. 18 for a 71, the teammates headed to the first tee, where the playoff was over as quickly as it began when Harris three-putted from 15 feet.
"I didn't want to win that way," Rende said. "But I was glad to see Tripp in there with a chance to win. He's been working hard on his game, and he's been playing better and better."
UTC coach Mark Guhne who was on hand for the proceedings, thinks Harris's time is coming, provided his confidence ever matches his physical gifts.
"When that confidence light bulb comes on, watch out," Guhne said. "There's no telling what he can do when it does."
Just as Guhne has talked confidence with Harris, he's had sage advice for Rende, who blew up after winning the 2007 Tennessee Open. Buoyed by that success, he qualified for the U.S. Amateur and then played a strong fall season for UTC, with three top-10 finishes (including a third), a 70.77 scoring average and 28th place in the Golfstat Cup. He was also ranked 59th in the nation by Golfweek.
At that point, say Guhne and Rende, the sophomore unconsciously began to change his game, playing more to preserve his newfound status rather than improve upon it.
"He wasn't playing Derek golf," Guhne said. "Derek golf is aggressive."
"I wasn't playing aggressive at all," Rende said. "And I wasn't having fun. It's not much fun when you aren't making many birdies."
A talk between player and coach over lunch last week put some fire back into Rende's game. He needed a bit of a pep talk after the Mocs missed out on advancing to the NCAA Championships despite the fact the East Regional was played at Council Fire, and after missing the second round of U.S. Open qualifying by one shot at Tennessee National a couple of days later.
Guhne's advice was fairly simple.
"It was all about playing more aggressive, hitting more drivers off tees, trying to birdie every hole out there," Guhne said.
That was Rende's game plan in the Red Bud, and although birdies were scarce for him and everyone in the field on a rain-soaked Sunday, he still managed enough of them to win the tournament.
And now it's off to a jam-packed summer of high stakes amateur golf. Rende leaves this week for the Sunnehana. After that comes the North-South, the Dogwood, the Southern Amateur, the Tennessee Amateur, U.S. Amateur qualifying, and, Rende hopes, the Amateur itself for the second straight year.
Faced with those kinds of challenges, Rende was glad to give himself a little sendoff with a win in the Red Bud.
"I'll take every bit of confidence I can get," Rende said.
###
Red Bud Invitational Z Golf Scoreboard

Top of Page