By Chris Dortch, Staff Writer
last updated 05/18/08 07:05 PM
Michael Morrison Repeats at Signal Mountain
Signal Mountain Invitational Z Golf Scoreboard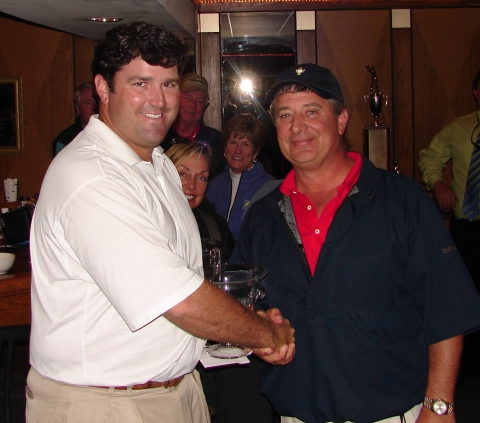 Tournament Chairman Tim Burns
congratulates
2008 SMI Champion Michael Morrison
If there's one person who appreciates the significance of the Signal Mountain Invitational, it's Michael Morrison.
The son of former tournament director and long-time Signal Mountain Golf and Country Club member Bob "Lumber" Morrison grew up around the tournament, and as a youngster played the course more times than he could begin to recall. When the younger Morrison won the tournament for the first time at age 17 in 1995, he was pretty much fulfilling his destiny.
Thirteen years later, Morrison is still fulfilling his destiny.
Shaking off a rugged front nine that included four straight bogeys from No. 6 to No. 9, he shot a final-round 72 on Sunday that was just good enough to keep a trio of talented challengers at bay. Coupled with his opening rounds of 63-68, that 72 gave Morrison his second straight Signal Mountain championship and fifth overall.
That moves him to within another victory of joining some fast company. The great Lew Oehmig, perhaps the finest amateur the state of Tennessee has ever produced, and Ed Brantley, who played in a couple of U.S. Opens during a long and successful amateur career, hold the tournament record with six titles. At 30 and in the prime of his golfing life, Morrison figures to overtake those two great champions and establish a record for wins that may never be broken.
Still, it wasn't the numbers five or six that were on Morrison's mind before the final round. Rather it was 12, as in 12-under-par, the tournament scoring record set by Brantley.
At 10-under, Morrison couldn't be blamed for thinking that record could fall by the wayside before he teed it up on Sunday.
"I was just hoping to come out and play well on the front, maybe get it to 12 under, so I could relax, and not have to grind it out on the back," Morrison said.
It wasn't that easy. Morrison had much to do with that, considering two of those four straight bogeys came as a result of three putts. But his playing partners, talented players all, weren't about to let him win another championship without a fight.
Morrison, a former All-American at Georgia, showed he was ready for that fight at the par-4 10th. Still reeling from the bogey he made at the par-5 9th that dropped him to 8-under for the tournament, he launched a drive, then nestled a 65-yard pitch to within two feet and made the putt for birdie.
That increased Morrison's lead, which had plummeted to a mere two strokes over Paul Apyan and Steve White, to three shots.
Both those players, as well as Baylor senior Stephan Jaeger, who'll play for UTC next year, would keep the pressure on Morrison. All three pursuers birdied No. 13, the short par-5, with Morrison settling for par. White, a former Clemson player, moved to 6-under with his birdie, and was once again two shots behind the leader.
Apyan, the Southern Miss sophomore who finished third in last month's Conference USA championship and has shot under par in seven of his last nine rounds, and Jaeger both birdied No. 15, Apyan moving to 6-under and Jaeger to 4-under.
When Apyan birdied No. 16 to pull within a shot of Morrison, that's when the big guy closed the door, draining a medium-length birdie putt of his own to get to 9-under.
White's birdie at No. 17 pulled him to within two shots of Morrison, but the latter's par at No. 18 sealed the deal. White, who closed with a 67, and Apyan, whose 69 included seven birdies and five bogeys, tied for second at 206. Jaeger was next at 210 after a final-round 70.
As he collected his fifth Signal trophy, Morrison talked about his dominance in the tournament that means so much to him and his family. Were it not for a brief stint as a professional and a couple of years away from amateur golf, Morrison might already have the record.
"I've played well here," Morrison said. "But I feel like I know the course better than most. I've played it a ton. And it fits my game. I like to play the ball left to right off the tee. And my wedge game and my putting are usually pretty good. That's important when you're playing at Signal Mountain."
Morrison's got a lot of golf left in him, but his life is about to change. He and wife Ashley are expecting their first child in August.
"I'll be playing a lot less golf after that," said Morrison, who has played a national amateur schedule the last few years. "But my wife played college golf, and she understands my passion for the game.
"I'll definitely be back here for a long time to come."
###
Signal Mountain Invitational Z Golf Scoreboard