By Chris Dortch, Staff Writer
last updated 10/04/08 06:32 PM
Roberson vs Bedwell, Baird vs Harris in TPC Semis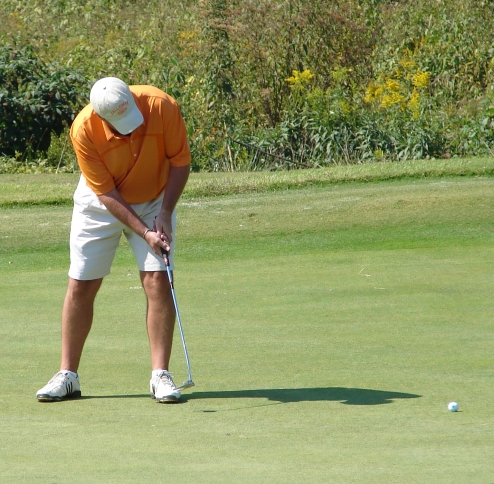 John Lambert misses birdie attempt
against Caleb Roberson
on #1 in TPC quarter-finals
Here's how tight Derek Rende and Tripp Harris are: When they showed up for their quarterfinal match in the Chattanooga TPC at Council Fire on Saturday, they were wearing virtually the same outfit—mint green shirts and white shorts.
"That wasn't planned," Harris said.
Of course it wasn't. These two guys, teammates since their days at Soddy-Daisy High School and now at UTC, even think alike. It had to be some sort of weird ESP thing that guided them to the same colored shirt and shorts in their closets.
"We have been friends for a long time," Rende said.
So long that neither looked forward to playing Saturday's match, and neither wanted the other to lose by missing a short putt. Several of the knee-knocker variety were conceded, including a couple by Harris when the match was very much in doubt. Rende didn't have to make a three-foot birdie putt at No. 14 after Harris had drained a 10-footer for a deuce, and he was also able to pick up a three-and-a-half foot par putt at No. 16 after Harris was already home with a four.
"I didn't want to win if he'd missed a short one," Harris said.
As it turned out, it wasn't a short stroke that did Rende in. After driving into the thick stuff left of the par-5 18th's fairway, Rende decided to go for the green in two and expected the gunch to twist his club and make the ball go left.
Instead, the opposite happened.
"I barbequed it," Rende said. "But it squirted right on me."
Right and into a hazard, where thick grass, even taller bushes and some other nasty stuff with needle-sharp stickers blanketed the ball so well it wasn't found.
Rende had to take a drop from about 10 feet off the green, and his pitch shot rolled 30 feet beyond the hole. Harris, meanwhile, lasered his second shot right at the flag and it came to rest about 15 feet behind the hole, a foot or so off the green.
Once Rende missed his par putt, he conceded the match to his old buddy. Harris accepted the 1-up victory, but he hated it came at the expense of Rende.
As close as they are, the two players had been going in opposite directions the last couple of years. While Rende, a sophomore, blossomed quickly as a freshman and traveled with the Mocs his entire career, red-shirt junior Harris has had trouble qualifying, given the deep and talented group coach Mark Guhne has assembled. Outside of college golf, Rende has established himself as one of the premier amateurs in Tennessee, winning the 2007 Tennessee Open and the 2008 Tennessee Amateur.
Recently, Harris's considerable game has begun to turn back around. In the Mocs' stroke play qualifying for their last tournament of the fall season, next week's Brickyard Collegiate in Macon, Ga., Harris was low man, shooting 4-under in three rounds, one each at The Honors, Black Creek and Chattanooga Golf and Country Club. His 67 at the country club clinched his first spot on the traveling squad since last season.
"You want to see all nine or 10 of your players to play great and make the traveling team, but it's not possible," Guhne said. "You can only take five. But Tripp has worked hard, and it's starting to pay off for him. He's been playing some really good golf."
Harris has been frustrated by his inability to qualify more often, but he's a team player and has basked in the Mocs' success—late last month they rose to No. 1 in the Golfweek/Sagarin Ratings.
"It's been a little frustrating, but with the team playing so well, you can't be too disappointed," Harris said. "You just have to work as hard as you can and try to contribute. It feels good to be able to [play in the Brickyard Collegiate]. It's been a while since I've traveled with the team. I'm excited about it."
Harris' opponent in the semifinals on Sunday will be the only graybeard left alive, Tom Baird of Chattanooga Golf and Country club, who defeated three-time TPC champion Pat Corey 2 and 1 on Saturday.
In the other quarterfinal match, two Lee University players advanced and will play one another in the semifinals. Caleb Roberson outlasted John Lambert in 21 holes and Sam Bedwell slipped past Mitch Hufstetler in 19 holes.
Saturday's Matches
No. 9 Caleb Roberson def. No. 16 John Lambert, 21 holes.
No. 4 Sam Bedwell def. No. 12 Mitch Hufstetler, 19 holes.
No. 7 Tom Baird def. No. 15 Pat Corey, 2 and 1.
No. 3 Tripp Harris def. No. 6 Derek Rende, 1-up.
Sunday's Matches
8:20 a.m.-Roberson vs. Bedwell.
8:30 a.m.-Baird vs. Harris.
###