By Chris Dortch, Staff Writer
last updated 10/05/08 05:47 PM
Tripp Harris Wins TPC in 21 Holes Over Caleb Roberson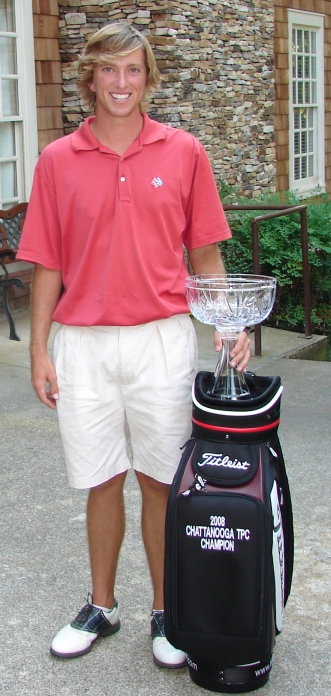 2008 Chattanooga TPC Champion
Tripp Harris
Early in his match against Tom Baird in the Chattanooga TPC semifinals at Council Fire on Sunday, Tripp Harris realized if he wanted to advance to the finals and have a chance to win there, he would have to overcome an uncooperative driver to do it.
For some players, that could be problematic. For Harris, it just meant he would have to lean a little harder on his reliable short game.
"Tripp's ball striking is solid, but his short game is very, very good," said Harris' coach at UTC, Mark Guhne. I love watching him hit his wedges. And he's a great putter."
As it turned out, Harris would rely on his prowess with the wedge and the flat stick on Sunday. He held a shaky 1-up lead over Baird heading into the par-4 15th, and after tangling with the rough off the tee, found himself facing a third shot that was still in the thick stuff and about 50 yards short of the green. With a deft pass of his lob wedge, Harris lofted a shot on the green and the ball took two hops and dove into the hole for a birdie and a 2-up advantage.
That was the decisive punch thrown in a 3 and 2 Harris victory.
Fast forward to the 21st hole of the championship match against Lee University freshman Caleb Roberson, who had given Harris, a red-shirt junior at UTC, all he could handle to that point. At the third playoff hole, the par-4 third, the large tree that guards the right side of the fairway came into play.
Roberson hit a decent drive but was blocked by branches and couldn't loft a normal shot. He hit a low 8-iron under the tree, but it fell into the first greenside bunker.
Harris, meanwhile, had driven directly behind the tree, leaving him no choice but to pitch out.
"I just wanted to get it to 90 yards where I could hit a full lob wedge," Harris said.
He was disappointed with the results; though the shot tracked the pin all the way, it bounded about 20 feet past the hole.
Roberson, faced with a buried lie in the first bunker, blasted it out but into the second bunker. His next shot settled to within concession range for bogey, leaving all the pressure on Harris and his putter. It doesn't take Harris too long to size up shots, and after a quick glance at his 20-footer, he stroked the ball into the cup for a par and the championship.
"It broke about half a foot left," Harris said. "I just wanted to put a good stroke on the ball."
Harris' putter had saved him earlier, at the par-4 1st hole, where the playoff began. Harris hit his approach to about 15 feet behind the hole, but Roberson did even better, cozying his shot to about five feet.
"I knew I had to make that putt for the match to continue," Harris said. And make it he did. Sure enough, Roberson answered his birdie by drilling his five-footer. Both players parred No. 2 before heading to the decisive third playoff hole.

Tripp makes birdie putt
on 1st playoff hole...


...and Caleb answers to send playoff to #2
Late in the match, a playoff didn't seem likely. After Harris made a nice medium-length birdie putt at the par-3 14th, he took a 3-up lead with four holes left.
Roberson cut into that advantage with a birdie at No. 15, and after both players bogeyed No. 16, Roberson made a nice par save from the grass bunker left of the green at the par-3 17th. Harris, who also missed the green left, made a bogey.
Roberson took no chances at the par-5 18th. After a ripping a drive down the middle that left him 200 yards to the hole, he launched a 5-iron approach right at the flag. It landed five inches behind the hole for a kick-in eagle that he had to have; despite driving into the left rough, Harris still manufactured a birdie when he chipped in.
That sent the match to extra holes, and though he lost, Roberson, who's already played a pair of tournaments as a freshman, wasn't too disappointed.
"I'm pleased with the way I played," said Roberson, who credited a pre-tournament grip change with improving his putting. He made several key putts as he made his way through stroke-play qualifying and four rounds of match play.
Harris, who only recently qualified for the Mocs' last tournament of the fall season, adds another shot of confidence as he tries to keep his spot in the lineup, no small feat given No. 1-ranked UTC's talent level these days.
"It does give me some confidence," Harris said. "And it'll help me this week [in the Brickyard Collegiate]. With the group of guys we have, it's just fun being a part of it. But it'll be nice to contribute on the golf course. I've been playing better the last couple of weeks, and I'd love to keep it going."
Sunday's Matches
Semifinals
Caleb Roberson def. Sam Bedwell, 4 and 3.
Tripp Harris def. Tom Baird, 3 and 2.
Finals
Harris def. Roberson, 21 holes.
###